6th Edition of The Camera Assistants Manual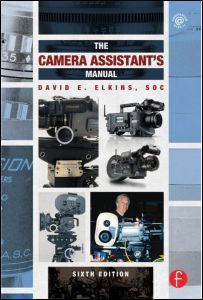 So earlier this week I just got some great news from my good friend
David E. Elkins-SOC
that his new book the
6th Edition of The Camera Assistants Manual
in which I talk about in
(Why Camera Reports are so Important)
blog will be coming out this month on
February 28th
as I have seen it already posted on Amazon last week and I am sure it will be at Filmtools as well. I am so honored that david reached out to me over a year ago to help him with the book and to give my thoughts on how in today's ever changing world of Digital Cinema plays a roll in every position of the Camera Department. it is just as important now more then ever that more and more productions shoot on digital and the job becomes just as challenging as it has been for the last 100 years of moving images. Our Film is now SSD's as our ipads become our new slates and how miniature models become CG. It does not matter if it's film or digital because the skills and craft will continue to grow as the tools make us much better at our jobs also challenge us in many ways.
David E. Elkins
David E. Elkins, SOC
has over 25 years of professional experience as a Camera Operator and First Assistant Cameraman, working on feature films, television series, commercials, music videos, educational films, industrial films and much more. He is an active member of the International Cinematographers Guild Local 600 and Society of Camera Operators.
Excel as an Assistant Cameraman (AC) in today's evolving film industry with this updated classic. Learn what to do—and what NOT to do—during production and get the job done right the first time.

The Camera Assistant's Manual, Sixth Edition covers the basics of cinematography andprovides you with the multi-skill set needed to maintain and transport a camera, troubleshoot common problems on location, prepare for job interviews, and work with the latest film and video technologies. Illustrations, checklists, and tables accompany each chapter and highlight the daily workflow of an AC.

This new edition has been updated to include:

* A fresh chapter on the entry level camera positions of Camera Trainee/Production Assistant

* Coverage of emerging iPhone apps that are used by filmmakers and ACs on setAn updated companion website offering online tutorials, clips, and techniques that ACs can easily access while on location (www.cameraassistantmanual.com)

* All new sample reports and forms including AC time cards, resumé templates, a digital camera report, and a non-prep disclaimerInstruction and custom forms to help freelance filmmakers keep track of daily expenses for tax purposes

The Camera Assistant's Manual, Sixth Edition is an AC's bible for success and a must-have for anyone looking to prosper in this highly technical and ever-changing profession.