NETFLIX: Which 4K Cameras Can You Use to Shoot Original Content?
So the other day I came across this article that was written by
Ogy Stoilov
from
4k Shooters
back in July 2017 that had a question mark on what 4K cameras you could shoot original content with. LA based cinematographer
Dan Kneece
had somewhat of an issue as to why could you not use an arri alexa and or any other 2k camera like Roger Deakins did with skyfall. Deakins said they shot the film in it's native format (2K) and up-rezed it to 4K for theaters and it looked great as you could not tell the difference in which I agree with.
NETFLIX
Currently in version 2.1, Netflix Production and Post-Production Requirements guidelines "Provide a set of technical requirements for production and post-production workflows to ensure that a high level of quality is maintained throughout the lifecycle of a project from capture to archive. This serves the purpose of future-proofing the content as the Netflix platform and viewing experience continue to evolve."
Now I do agree with Ogy as it's the way of future proofing content but I think it limits what cameras you can shoot with as you see on the list below.
Netflix 4K Approved Camera List
Canon:
C700
C300 Mark II
Canon C500
Panasonic:
RED:
Weapon (Dragon) 6K
Weapon 8K
Weapon 8K S35 (Helium/"Stormtrooper")
Panavision:
Sony:
ARRI:
Blackmagic Design:
URSA Mini 4.6K
Big URSA 4.6K
Panavision DXL
The requirements for 4K cameras to be used in Netflix original programming as A-cams are as follows:
4K Resolution:
Camera must have a true 4K sensor (equal to or greater than 4096 photo sites wide).
Recording Format:
Minimum of 16-bit Linear or 10-bit Log processing
Bitrate of at least 240 Mbps (at 23.98/24 fps) recording
Recording format must be set to either:
RAW (uncompressed or lightly compressed sensor data)
Log color space (i.e. S-Log3, V-Log, CanonLog3, REDLogFilm, BMDLog, LogC)
No looks or color corrections should be baked into the original camera files.
Files must maintain all metadata (i.e. Tape Name, Timecode, Frame Rate, ISO, WB, etc.)
Aspect Ratio / Framing:
Aspect ratios greater than 2.00:1 must be evaluated and discussed with Netflix for approval.
Framing chart must be shot before principal photography begins, and processed through the dailies pipeline which will be shared with editorial, post-production, and VFX.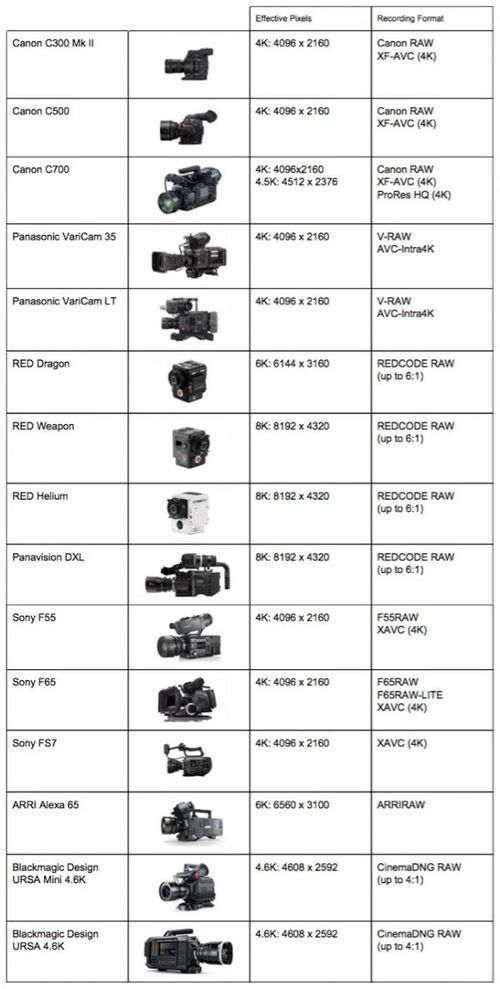 Why the Sony F5 is not on there is still a head scratcher to me as I am sure other F5 owners are feeling the same way. (The Sony F5 has a 4K paid upgrade for 4K XAVC (which is the approved codec for the FS7, which is on the list), and can also shoot 16bit 4K Raw with the Sony AXS-R5 Raw recorder)
So what about your B, C and D Cams?
Netflix understand the wide range of shooting scenarios (drones, crash cam, tight spaces, etc.) cannot always accommodate a large camera, therefore they will allow smaller 4K cameras to be used that are not on their approved camera list, as long as these shots will make up 10% or less of the final cut. But the good news is that 4K is only for original programing so you can still sell your film to them even if it's not in 4K which is a good chunk of it.
For more information on Netflix Original Content List
Click Here